Educate Yourself: to students and parents
Industry information on student travelers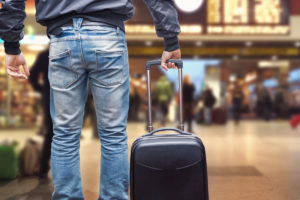 In 1920, The Institute of International Educational (IIE) was formed. It began as an exchange organization for faculty and students, with the goal to facilitate student exchanges between the U.S. and Europe.
Shortly thereafter, in an attempt to standardize information about students studying abroad, IIE sent questionnaires to U.S. academic institutions.  
In 1954, IIE launched an annual state of the the industry report, called "Open Doors." The information contained in Open Doors is compiled via surveys completed by institutions of higher education. Questions include, for example, how many students studied abroad during the previous calendar year, what countries they studied in, growth trends by country, and program length. Participation of institutional members is voluntary. Safety information is not collected.
Fiscal support for Open Doors, comes from the U.S. Department of State, Bureau of Education and Cultural Affairs (ECA).
http://www.iie.org/Research-and-Publications/Open-Doors
IIE states "Open Doors has long been regarded as the comprehensive source for study abroad trends." Its information is shared with and used by study abroad programs, recruiters, governmental agencies, and universities. From this data, IIE puts out press releases and works with media outlets, with the goal of generating interest in study abroad.
http://www.nafsa.org/Find_Resources/Supporting_Study_Abroad/Network_Resources/Education_Abroad/Managing_Education_Abroad__How_to_Collect___Report_Study_Abroad_Data/
Open Doors data (2016) states that, during the 2014-2015 academic year, 313,415 American students studied abroad. Though this enrollment number represents a significant increase over previous decades, it is far below the goals set by IIE and the Department of State.
http://www.iie.org/Programs/Generation-Study-Abroad/About/Projections#.V06WwZMrJsM
The Department of State, has a history of supporting study abroad, through such programs as the Fulbright U.S. Student Program, the Critical Language Scholarship Program, and the Benjamin A. Gilman International Scholarship Program.
In March of 2015, with "fewer than 10-percent of U.S. students taking advantage of study abroad opportunities," Department of State announced the formation of a study abroad office, under ECA. Their stated goal is to increase the number and diversity of students studying abroad, and also diversify destinations.
https://studyabroad.state.gov/
https://travel.state.gov/content/studentsabroad/en.html